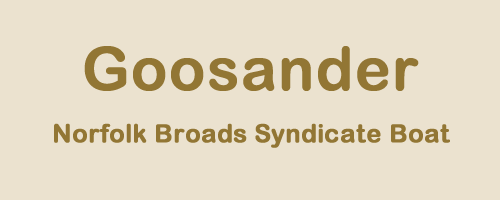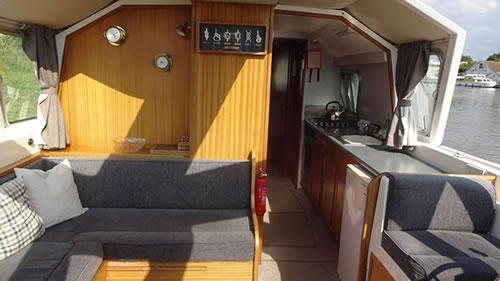 Goosander is a 4 berth Norfolk Broads boat share cruiser, which has been thoughtfully fitted out internally, to offer its owners a high level of comfort
Saloon area

The saloon has large picture windows all around, allowing light to flood in and at the same time, provide excellent views for those onboard. The seating area has recently been re-upholstered with a soft-touch cloth, and can convert to a double berth if required. The saloon is fully carpeted and the windows are curtained for privacy. Warm air heating is provided using a Webasto heating unit, ducted to several points throughout the boat.

Two front doors give access to the forward well, a great space for fishing or just watching the world go by.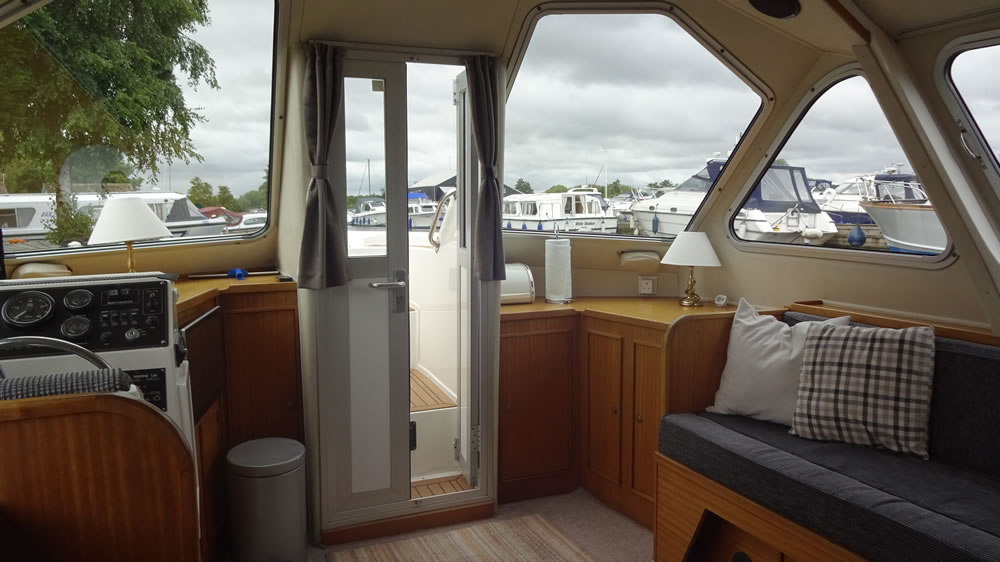 Saloon area, continued

Goosander has a retractable canopy, which is divided in half so that the left side, the right side or indeed all of the canopy can be opened or closed independently. This comes in very useful as it allows the owner to sit in the sun, whilst at the same time, avoiding any cool breezes.

Onboard entertainment is provided in the form of a stereo radio/CD player and an 18.5inch flat screen TV, which is wired to the outdoor pole mounted aerial. Goosander is blessed with having an abundance of cupboard space for storage, one of which houses books, DVD's and CD'S provided by the community of owners.

There is an ample number of 13amp electrical sockets in the saloon for use when connected to on-shore power. Lighting is provided by an array of LED's across the roof of the boat, providing bright white light throughout the saloon area. Soft lighting is provided by two lamps placed under the front windows. A 12volt car cigarette lighter socket can be used to charge USB devices, when not connected to on-shore electricity.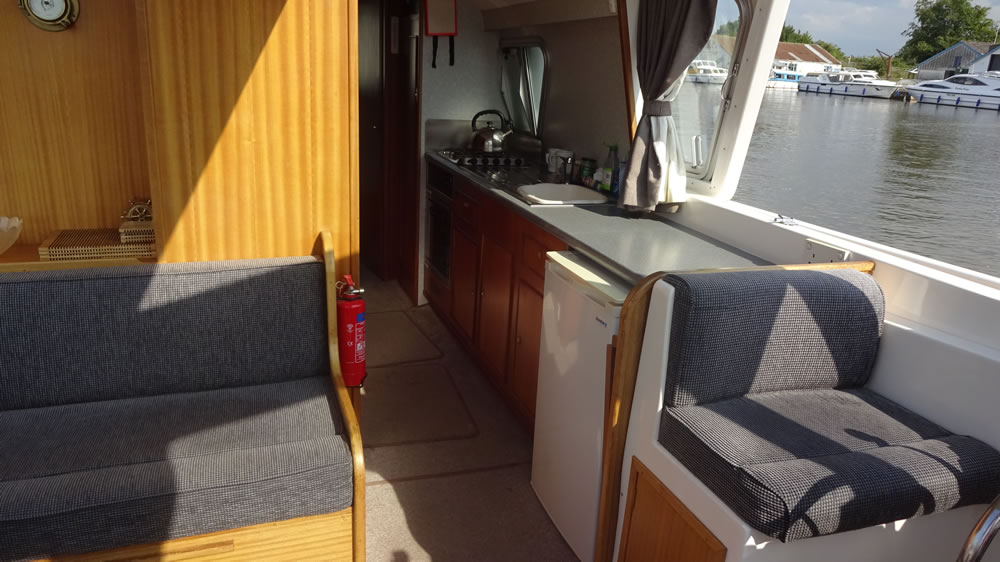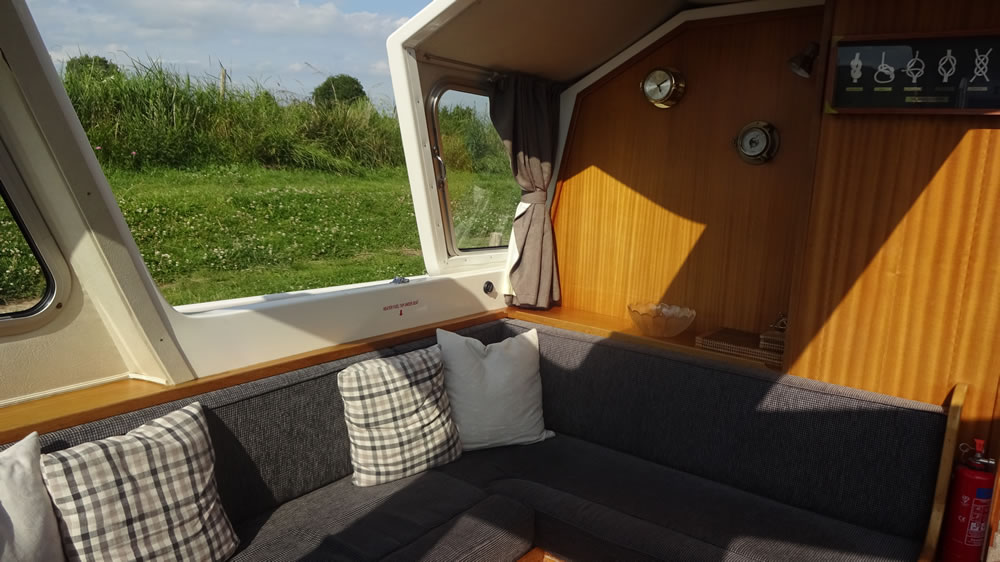 Driving position

There is nothing nicer than cruising the rivers, open to the sun and fresh air. Goosander is steered from a position which can be either open to the sun, or under the sliding canopy if the weather is inclement. A single lever throttle provides forward and reverse gears. A collection of dials provides the usual readings for oil pressure, water temperature, onboard battery charging etc. Fuel and freshwater gauges are also provided. Here you will also find the controls for the bow thrusters, a must have for less able or solo cruisers. A rear view camera monitor aids stern-on mooring.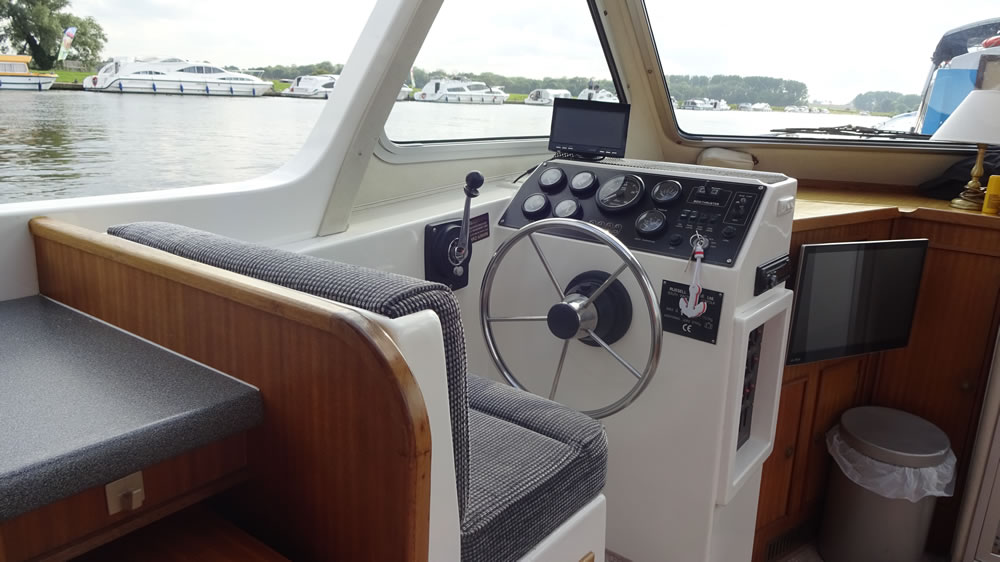 Galley

The galley on Goosander is fully fitted, with a 4 burner gas hob, grill and oven, a full size domestic electric fridge with freezer compartment, hot and cold water to the sink unit, with good strip lighting above. There is a long laminate worktop, underneath which is a run of drawers and cupboards.

A table with fold down leaves, is stowed neatly next to the fridge when not in use. A tall cupboard next to the cooker, houses a cordless vacuum cleaner, and a Karcher window vac, together with some domestic cleaning items.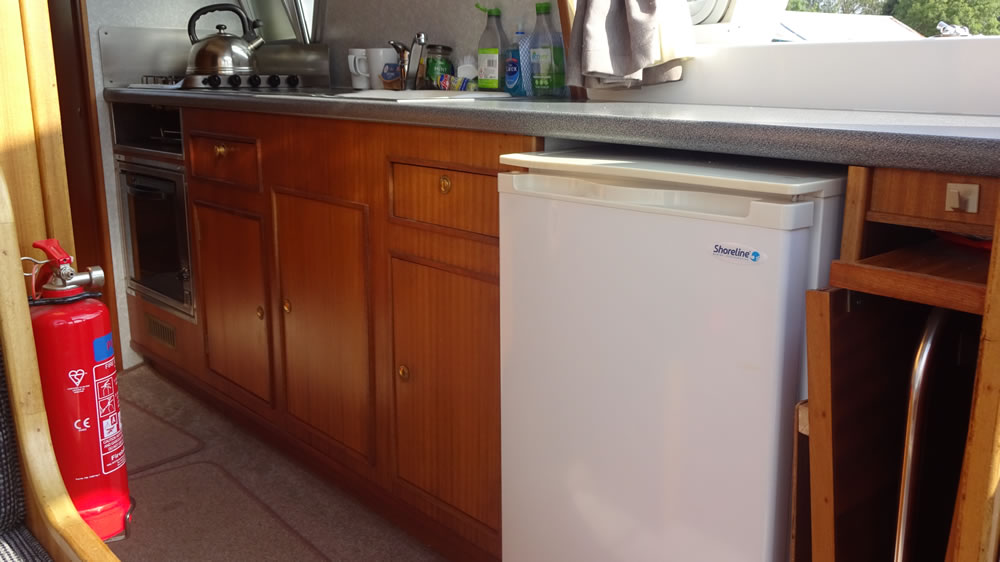 Everything AND the kitchen sink

Most of the items you might consider bringing with you for your stay on Goosander are already provided. A generous stock of plates, dishes, crockery, pots and pans, non-stick frying pans, teapots, casserole dishes, chopping boards and cutlery are already onboard. You don't even need to bring oven gloves!

A selection of different sized glassware is stationed in the cabinet under the starboard (right hand) front window.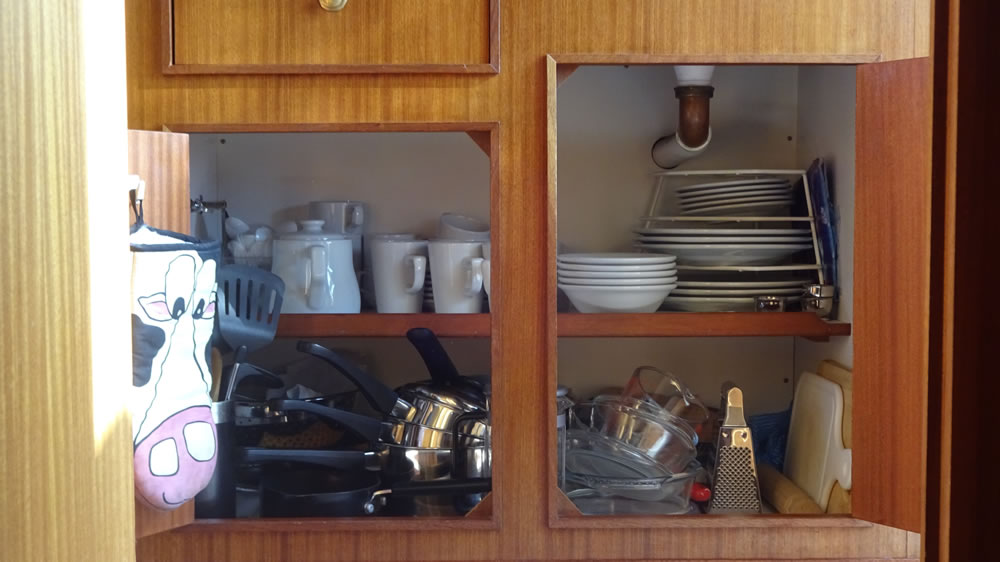 Cabin

The cabin (bedroom) on Goosander features a full size double bed. Just bring your own bedding and pillows.

As with the rest of the boat, there are ample cupboards and drawers to store your clothing, without them becoming creased. A fair sized, full length wardrobe will ensure dresses and trousers hang correctly, while three deep drawers and two cupboards will take your holiday-ware. A large mirror is hung above the drawers. There is additional storage space under the bed.

The cabin is of course, fully curtained, and has two levels of LED lighting, for those who like to read before going to sleep. A 13amp socket is fitted for use when connected to on-shore electricity.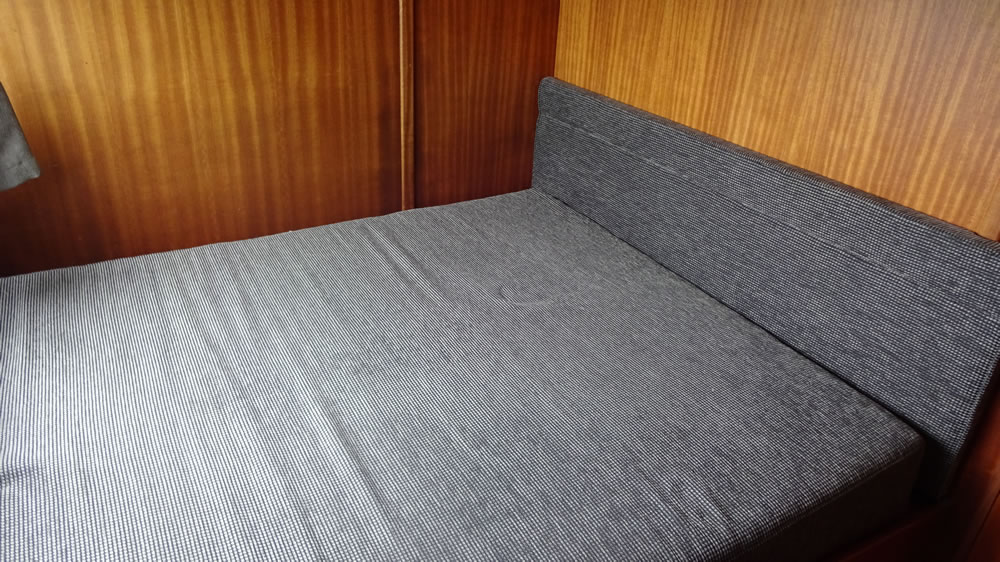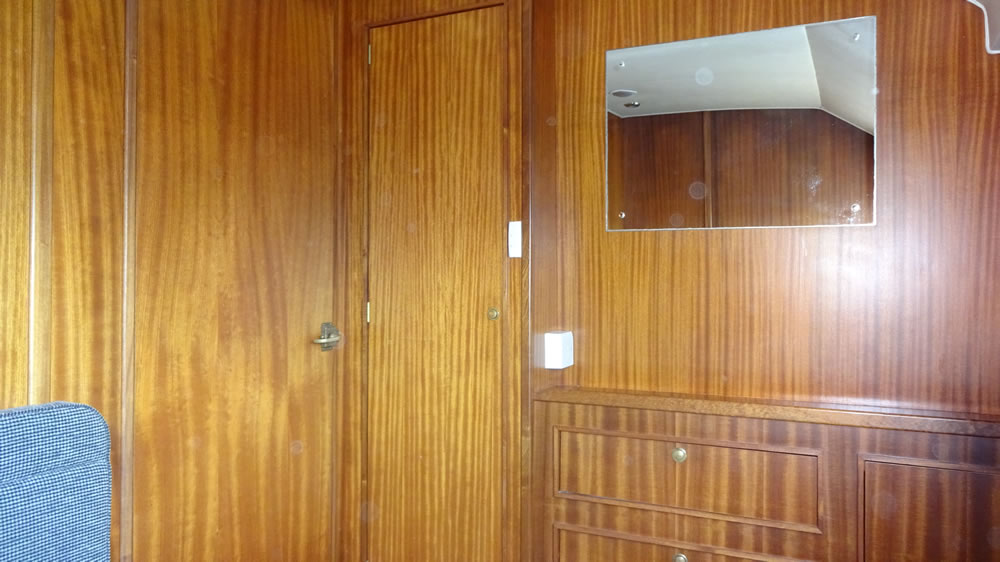 Toilet

Goosander is unusual for a holiday boat, in that conveniently, it has separate toilet and shower compartments.

The toilet is the standard fresh water flush variety. Also within this compartment is a wash handbasin with hot and cold water.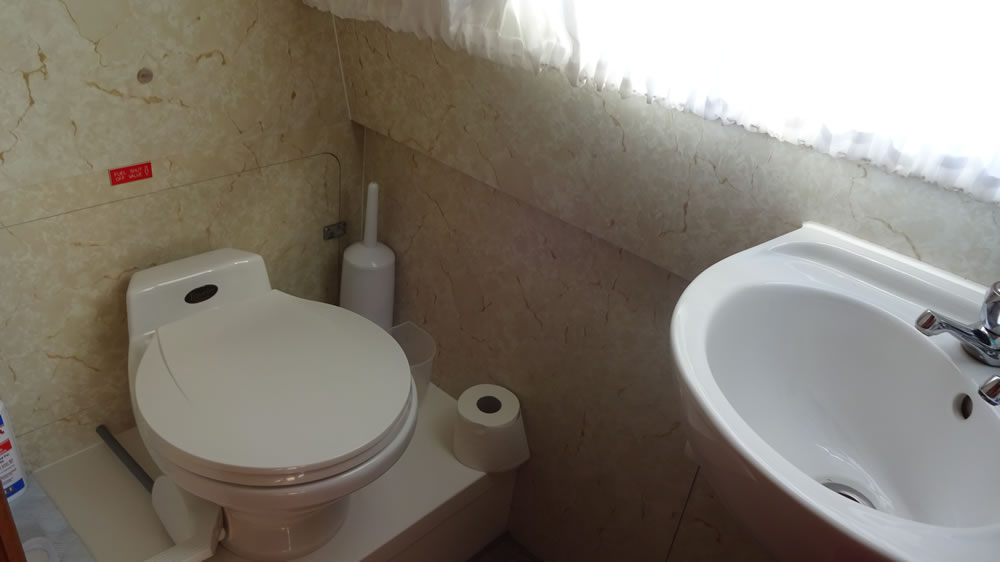 Shower room

The shower room is larger than on the average holiday boat, with hot and cold water delivered to a fixed (and removable) shower head. Also in the compartment is a full size wash hand basin, and a 240v shaver socket.

You will really appreciate the spaciousness of this room when compared to showers on hirecraft you may have holidayed on in the past.